Click on Shop Hoagies' Page before you visit your favorite on-line stores including Amazon and many more of your favorite stores. Thanks for making Hoagies' Gifted community possible!
Donations
Your donations help keep Hoagies' Gifted Education Page on-line.
---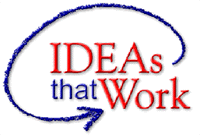 ---
The ERIC/OSEP Special Project
Through the ERIC Clearinghouse on Disabilities and Gifted Education (ERIC EC), CEC operates the ERIC/OSEP Special Project. The ERIC/OSEP Special Project tracks and disseminates federally funded special education research for practitioners through various publications and conferences. Publications include Research Connections, a biannual review of OSEP-sponsored research on topics in special education, Newsbriefs, which summarize some of the most recent research from OSEP, Topical Briefs, short publications that are intended to increase awareness and understanding of specific subjects, and special public awareness campaigns such as Learning to Read, Reading to Learn.
Discretionary Grants and Contracts
The Directory of Discretionary Projects supported by OSEP under IDEA is available online as a searchable database. Nearly 1100 projects are included.

Search the OSEP Directory of Grants and Contracts
---
---
---
---
Each year, the Special Project hosts a conference for directors of OSEP-sponsored research projects. Throughout the year, research forums and work groups are held that bring together experts on emerging topics of interest. Focus groups representing the Special Project's audiences are held to inform OSEP and the Special Project of information needs and to enhance the utility of publications produced by the Special Project and other dissemination groups.
The ERIC/OSEP Special Project was funded under a three-party contract among The Council for Exceptional Children (CEC), the Office of Special Education Programs (OSEP), and the Institute of Education Sciences (IES), U.S. Department of Education. Under this contract, OSEP funds the ERIC/OSEP Special Project, and IES funds the ERIC Clearinghouse on Disabilities and Gifted Education.
Top of Page Back to ERIC Menu Back to Hoagies' Gifted Education Page
---
copyright © September 23, 2003
ERIC Clearinghouse on Disabilities and Gifted Education